Remakes............
The most common conversation I hear these days is "What's with all the remakes?" They're currently filming a remake of "A streetcar named desire". Recently we saw a remake of the Longest Yard. We've seen p0pular TV series of the 60's remade, that include Mission Impossible, Bewitched, The Beverly Hillbillies, Caspar the friendly Ghost, The Adams Family, Lost in Space, The Flintstones, The Honeymooners , etc.........
Most of them have been produced recently. The question being asked is; Is this because there's a demand for the remakes? Or is it because Hollywood has just dried up in the creativity department. I say neither. Hollywood is full of abundant writers and producers so I doubt the latter flies. Is their a demand for them? I really don't think so. I think Hollywood is in a crisis mode right now. Why? Think back to November of 2004.
A 3D map was released after John Kerry's defeat to President Bush. If you haven't seen it it looks like this: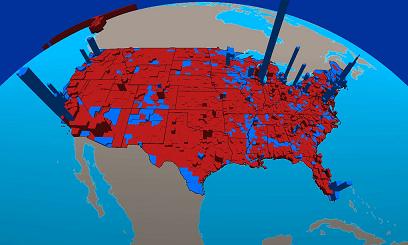 As you can tell, the networks and film makers discovered that the conservative or RED states consumed the majority of the countries geography.
Before 2004 ended, various networks made mad dashes to purchase family programming channels. This data came as a huge shock to Hollywood. For decades, Hollywood has been catering to the liberal audience. It wasn't until the above demographics were uncovered that producers even gave conservatism a second thought. Up to this point, the only family programming was "Touched by an Angel" . This was widely attributed to the "Angel" fad that was popular in the early 90's.
The networks and Hollywood film makers do NOT KNOW WHAT TO DO. So as a reliable plan B, DO REMAKES.
How can Hollywood change it's course of social corruption and sin and start turning out morally acceptable family programming? Will it be able to go from "Queer eye for the straight guy" and "Desperate Housewives" to something acceptable to church going Christians? I feel they have no clue how to write morally acceptable plots so they're forced to go with remakes from a time prior to the death of innocense.